The Unsuspecting Tour Guide
Fourth Installment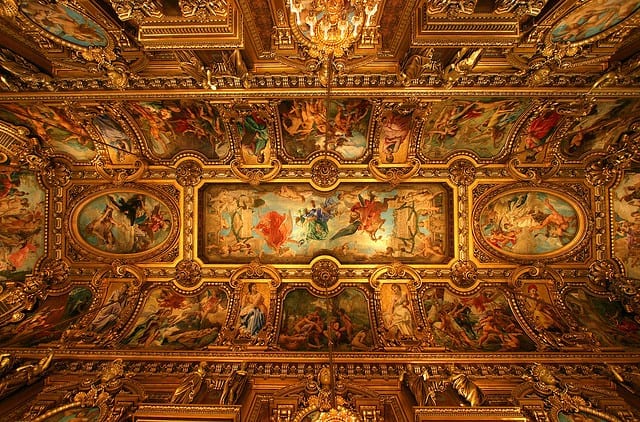 IV. Friday Evening Begins
Dr. Richard Strauss, due to make a personal appearance at tonight's performance1, and his operas had not been à la mode for some time now. Critics in La Revue Musicale derided his complex, overdone works and lack of compositional grace. Nor were "Feuersnot" and the accompanying ballet "La Légende de Joseph" considered his best works, although somehow that censure had no effect on the evening's programme. My mother in particular found the former production distasteful, which was why she had wheedled her way out of accompanying us. Romance was all very well, but when it came to new interpretations of pagan rituals, she tended to take offense; needless to say, neither representation of Stravinsky's "Rite of Spring" had sat well with her.
Going to the Opéra, of course, was only ever halfway about whatever work was being presented. Far more interesting than the spectacle on the stage was that presented by the audience, all decked out and glittering in order to compete not only with each other but also with the room itself, dazzling in its interior grandeur.
The Palais Garnier could outshine many a magnificent maiden, were she not wary of her wardrobe. Inaugurated in 1875, after nearly fifteen years of construction, the Opéra had a distinctly opulent design indistinct of any particular movement; one might loosely call it Second Empire, given its construction under and influence by the reign of Napoleon III. On the exterior, marble warred with marble for pride of place in the classically inspired but altogether French faςade. Inside, all seemed gold and crystal. It was no surprise that apparently both the Goncourt brothers and the esteemed Comtesse Greffulhe were rumored to have complained that the interior of the theater detracted from the glamour of its female patrons2.
The trick, as I had found when the closing of my couturier Paul Poiret's atelier during the war3 had led me to the salon of Gabrielle "Coco" Chanel, was to contrast the building's voluptuous grandeur with striking simplicity. Although my wrap was an over-sized brocade kimono from Paul Poiret with whose luxurious folds I could not bear to part, my dress was a relatively unadorned length of midnight chiffon, drop-waisted and quite bare over the arms (I wore gloves, of course). A set of my mother's South African diamonds brought out the subtleties of the chiffon's surface texture. Combined with my trim hat, silvery black lace protruding just over my eyes, the ensemble was très moderne and très chic.
On the other hand, Lizzie Drewry was obviously still attached to slightly earlier conventions of the toilette à soirée. In and of itself, her frock was well-cut from expensive satin, but the abundance of lace and the pink color brought to mind a child's attire rather than that of a mature, modern woman. New York Vogue4 would have reported the popularity of lace during this year, but it was to be used almost as the tunic fabric, not as frilly adornment. She and her ensemble would be thoroughly overshadowed this evening.
Next to me in the car, my cousin Jean-Franςois fidgeted again. My mother's call had disturbed his own plans for the evening, which boded ill for Mlle Drewry. When I elbowed him sharply, he shot back a glare, then leaned over to whisper fiercely,
"Did you have to have to go out tonight? I had plans!"
"Tais-toi! I don't like this any more than you do."
We both paused to smile blandly at Lizzie Drewry, then I added,
"Besides, at least it's just your evening. I've had my entire week interrupted. I have plans, too, you know!"
Having found an ally in displeasure, his grumbling ceased with a sigh. I gave his arm a pat.
Jean-Franςois and I had been close since childhood. Our mothers were sisters, and we became each other's playmates until each of us was banished to school. He was still my go-to-escort for social occasions, while I was his intermediary in matters of the heart, roles at which neither of us really excelled…but it worked.
Depending on the company, though, I served less as an intermediary than a shield. As we took our seats, my cousin  was careful to place me in the middle, separating himself from Mlle Drewry. I hoped she would not take offense.
Fortunately, she was far too preoccupied with the marvelously turned out who's-who's of society.
"Isn't it splendid?" she whispered to me in excitement, training her opera glasses on a dame weighed down under her peacock-feather wrap – a very silly and uncomfortable decision, given how warm the theater could get and how itchy those feathers were.  At the same time, from my other side, my cousin muttered,
"This should be interesting."
Suddenly, I realized the true impact of my current predicament. Caught between an enthusiastically bubbly guest and my sardonically vocal cousin, my evening had just become a war on two fronts.
In the end, wardrobe is so much less important than the elocutionary inclinations of your neighbors.
---
1. New York Times, May 4, 1924, ProQuest Historical Newspapers: The New York Times pg. X6
2. Chimènes, Myriam. Mécènes et Musiciens: Du salon au concert à Paris sous la IIIe République. Paris: Librairie Arthème Fayard, 2004. Print. 18.
3. Davis, Mary E. Classic Chic: Music, Fashion, and Modernism. Berkeley, Los Angeles, and London: University of California Press, 2006. Print. 135.
4. Fashion: Evening gowns enter a plea for Pleats/Night shows no sign of falling from lace. (1924, Jun 15). Vogue, 63, 40-40, 41. Retrieved from http://search.proquest.com/docview/879161911?accountid=351.
---
Header:
Sierra, Piero. "L'Opera de Paris." Flickr, accessed July 14, 2015. https://www.flickr.com/photos/piero/251864891.