Frequently Encountered Performers:
In our data collection process, there were eight women who appeared repeatedly in newspaper advertisements. We defined these "Frequently Encountered Performers" as women who had more than 5 data points on our map, and they made up 71 of our 110 total data points, or about 64.5%  of our data. We gave each of these performers her own map and included some information about each of them below.  It is important to note that these women were well known and highly successful during their time despite the barriers they faced due to their race, gender, and sexuality.
To further highlight the artistry of the performers that we most frequently encountered, we have included a Spotify playlist for each performer. For most of these women, we had no trouble finding recordings to add to the playlists.  Our ability to find their work on Spotify correlates with our ability to find more  data points and images for these performers. Surprisingly, the only recording by the Whitman Sisters that we found on Spotify was within a podcast. We also couldn't find any of their work on Youtube. This is surprising because not only did we encounter the Whitman Sisters  frequently in our data collection process, but we also found a decent amount of background information and pictures of the group. We are not sure why these recordings seem to be less available.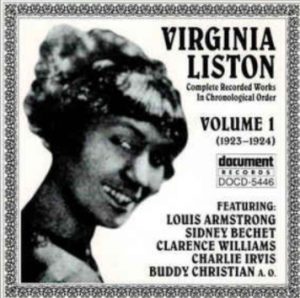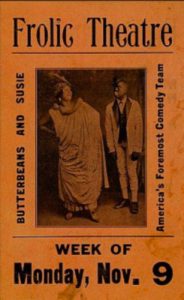 Less Encountered Performers
There were some women that we only encountered a handful of times in our research. We defined these "Less Encountered Performers" as women who are represented by fewer than five data points on our map. There were 34 total "Less Encountered Performers" who made up 39 of 110 data points, or about 35.5% of our data, including wife and husband duos. It is important to note that the performance data we included was collected from a handful of African-American periodicals over the course of a semester, and is not an exhaustive list of T.O.B.A. performances in the 1920s. It could be that these women were less popular or prolific than the "Frequently Encountered" performers, or it could simply be that we were not looking in the right places. More research can be done to uncover more information about these less encountered performers.
A Closer Look At
Race, Gender,
and Sexuality
Women performers on the T.O.B.A circuit faced unique challenges due to their race and gender. Even though T.O.B.A. theaters were Black-owned and operated, some theaters did reserve nights specifically for white audiences. While white audiences did enjoy the performances of Black women, they often criticized Black women for not conforming to the stereotypes they had become accustomed to through minstrel shows, which usually portrayed Black women as wild and overly sexualized or as obedient, asexual care-givers. When Black women challenged these white stereotypes, they often received disapproval from white audiences due to the portrayal of their class and sexuality.
Ma Rainey's public reception was a perfect example of white audiences' distaste for multi-faceted Black women. Sandra Lieb describes Rainey as a "short, heavy, dark-skinned woman with luminous eyes, wild, wiry hair, and a large mouth filled with gold teeth."  Photographs of her show her as an elegant woman, extravagantly clothed in elaborate gowns, tiaras, and jewelry. Rainey's performances were extremely well-received by audiences for her enchanting performances, and she was even considered somewhat as a sex symbol (Lieb 10). However, white audience members, particularly men, disparaged her appearance and criticized her for acting above her place (Lieb). 
Black performers were often criticised when they acted outside the expectations of their social class. In Rank Ladies: Gender and Cultural Hierarchy in American vaudeville, M. Alison Kibler writes about Black womens' struggle to be taken seriously as performers. It was common for vaudeville acts by white women to be performed in blackface, and these acts were usually comedies where white women "had the privilege of playing with blackness and with less physically inhibited, more sexual selves." In other words, white women performed caricatures of Black women. White audiences also expected Black women performers to present these caricatures of themselves, and it could be very difficult for them to break out of comedy and be taken seriously as artists (Kibler 116).
The performers that we have included had rich lives, experiences, and overlapping identities. It is worth noting that many of these performers were bisexual or lesbian (it is suggested that Ma Rainey and Bessie Smith were in a romantic relationship) and that their music often expressed the nuances of their sexualities. In portraying themselves as the complex, multifaceted people that they were, these women fought against a culture that saw Black women as caricatures.