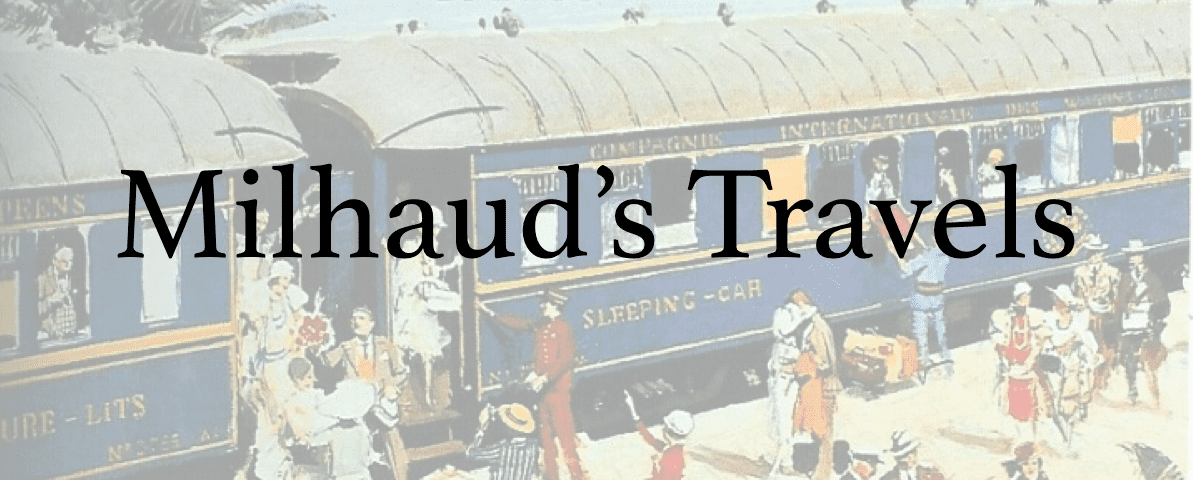 Story Maps
The Story Map feature in ArcGIS is the best way to present a discrete, related set of chronological data in an engaging and clear way. Of all of Milhaud's travels, we were able to put the destinations of three trips in chronological order: his honeymoon, his first tour to the U.S., and his second tour to the U.S. Presenting these three trips in three Story Maps allows the reader to view the data in chronological order and follow along in Milhaud's footsteps.
Each Story Map is meant to be viewed simply by scrolling down through the text section. Click on the destinations in the map section of the Story Map to open a pop-up window to find out more about the locations and how we geolocated Milhaud's travels. The first stop on each story map is configured to automatically show the pop-up.
Milhaud's Honeymoon
The Milhauds spent June 1925 on their honeymoon –visiting cities and sites all around the Mediterranean.
Milhaud's First U.S. Tour
Darius Milhaud's first U.S. Tour took him throughout New England, New York, and Pennsylvania from December 23, 1922 to February 25, 1923.
Milhaud's Second U.S. Tour
Darius Milhaud's Second U.S. Tour took him all the way across the country and back (and even to Canada!) from approximately late-November, 1926 to mid-February, 1927. The Pro Musica Society invited Milhaud and arranged his tour.
Chronological Map of Milhaud's Travels vs. Performances
This map contains color-coded data points of Milhaud's travels and performances of his works from 1922 to 1933. The viewer can click on any of the points to learn more about the particular travel destination or performance. The time slider at the bottom of the map allows the viewer to track Milhaud's travels and performances over time. The time slider's default setting displays the data 6 months at a time, but the viewer can manually lengthen or shorten the frame. The travels and performances are meant to be viewed at the same time, but each layer can be turned off so the map-reader can track one or the other through time.
This map is meant to explore the possible influence of Milhaud's travel destinations on the locations of his performances or vice versa, via the spatial and temporal juxtaposition of Milhaud's travels and performances.
This map raising many interesting questions about the impact of Milhaud's travels on subsequent performances of his works, as well as the impact of performances of his work on Milhaud's travel itineraries. Milhaud's honeymoon seems to have no direct influence on where his works were played. Milhaud's two tours to the U.S. and his tour to the U.S.S.R., however, were preceded by performances of his works in both countries. This suggests that performances of his works in the U.S. and the U.S.S.R. might have lead to invitations to tour in the two countries.
Methodology
To gather the information on Milhaud's travels, we primarily used three sources: Milhaud's autobiography My Happy Life, Paul Collaer's Correspondance avec des amis musiciens, and Correspondance: Journal d'Hélène et Henri Hoppenot. These sources were supplemented by various French and German historical newspapers and journals we combed through to construct the Milhaud performances database. The performances in which Milhaud either conducted, played piano, or was reported to have attended were gathered from these sources and formed an additional basis for the spreadsheet of Milhaud's travels.
The majority of locations, however, were not gathered from periodicals, but from Milhaud's autobiography and personal correspondence. Occasionally, a source contained all necessary information about the visit (location, date, and perhaps a specific place Milhaud saw in that place). When that was the case, we entered all of this information into the spreadsheet and assigned an address and lat/long pair based on the specific place that was mentioned, noting this place in the Description column.
However, this amount of information was rarely found in one source, as Milhaud was not in the habit of being particularly clear about where he was, and when he was there (understandably so, as personal correspondences and even autobiographies assume that the reader knows what the author is talking about). Sometimes, the travels mentioned in the correspondences and My Happy Life overlapped, and we were able to piece together missing information. However, more often than not, the specific date (or occasionally even year) of a particular destination was not available; we put a likely estimate into the spreadsheet and made a note of that in the Description column. When we could not geolocate a specific place at a location, we used a random point in the center of the destination and made a note of that. We were able to put the stops on Milhaud's two U.S. tours and his honeymoon in chronological order based on his descriptions of these trips in My Happy Life, some additional information in the letters, and a bit of geographical inference. We decided to exclude a handful of trips mentioned in My Happy Life that did not have any date or year we could assign to them with much certainty. These trips were trips to Berlin (twice), Madrid, Rome, Mont-de-Marsan (France), Vittel (France), Florence, Venice, and Holland. Our travel spreadsheet and maps are by no means comprehensive of Milhaud's complete travels, but they do comprise a significant portion of his travels from approximately 1922 to 1933, and demonstrate the extensive geographic spread of his tours and trips.