A dromedary, goat, grasshopper, dolphin, crayfish and carpe. Each animal had their special moment tonight, and so did composer Francis Poulenc. Young Poulenc's first song cycle was performed yesterday afternoon, May 9th 1920, at the Salle Gaveau concert hall, at 3:00[1]. The song cycle was well received by the elite audience members. Poulenc's Le Bestiaire was a successful first attempt at a song cycle. Though some may have dismissed it as merely a light, frivolous piece, there was substance below the surface. The concept of a certain depth existing despite outward lightness is one reflected in the development of what "frenchness" means for music today.
My afternoon began with a stroll up to Salle Gaveau. I contemplated going to see the New York Symphony Orchestra that very afternoon at the Opera1, but I wanted to see French performers. I will see the New York Symphony Orchestra when I am in America! And what better venue for a concert than the beautiful Salle Gaveau. It is simply splendid.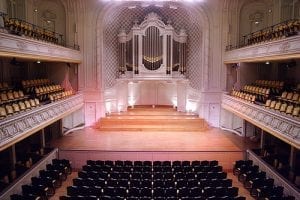 [2]
When I walked to my seat and settled in, I was intrigued to see that Stravinsky's L'Histoire du Soldat was on the program, as well as Mozart's Violin Sonata in B-flat major.1 It was quite fun to have such a variety of music. More importantly, I was intrigued to see how Poulenc's cycle would sound in context of the other pieces.
I did not have my expectations set highly for Poulenc's song cycle. He is so young and his career so newly emerging that I was skeptical of his abilities. I did not know how the distinguished and elite[3] audience that Salle Gaveau usually attracts would react. I was not sure they would be exceptionally open to 20-year-old Poulenc's first go at a cycle. Arthur Bliss described the audience best when he visited Paris this very spring. Bliss said that the Salle Gaveau "wears an air of snobbery, anxious not so much for its musical traditions, as that the society it has invited shall not demean themselves by any excess of enthusiasm."[4] That being said, I thought that the brilliant, notable audience did like the piece, but their enthusiasm was somewhat subtle.
Poulenc's piece had a refreshingly delightful newness about it. It demonstrated "frenchness" through simple melodies, fragments, and significance below the simplicity. Le Bestiaire set six of Guillaume Apollinaire's poems for soprano, string quartet, flute, clarinet, and bassoon.[5] The clarinet shone, especially during "The Tibetan Goat," evoking a nostalgic, pastoral mood. Though Poulenc is known for his humor, the cycle was not comical. It was light, clean, and quick, but it was not funny. The somber final words of "The Dolphin," "life is still cruel," was musically set the same as the first three lines, violin and singer joyful and buoyant. The contrast between the mood of the words and mood of the music was an example of Poulenc hinting at depth, startling us. This happened again at the end of "The Carpe." The whole poem was set chant-like, bringing the whole atmosphere down a level. The very last word of the whole cycle was "melancholy." The word was set in a way that left me surprised at its abnormality.[6] The word did not have a final sadness, but a leaping hauntingness. The song cycle demonstrated new "frenchness" because of its lightness and cleanness, but also because of its surprising substance beneath a façade of shallowness.
As Poulenc moved from animal to animal, I felt myself intrigued to see how he would let Appollinaire's words speak through the witty music. There was stillness after the piece finished that was significant. I could feel it, and so could George Auric sitting next to me. After the concert, he remarked to me that he was so proud and excited for his friend Poulenc. He knew how important Appollinaire's poetry was to Poulenc when composing this cycle. He told me that Poulenc reflected, "I heard the sound of his [Appollinaire] voice. I think there is here something essential for a musician who does not want to betray a poet. Appollinaire's timbre, like his entire oeuvre, was at the same time melancholic and joyful."[7] And I believe that we all heard the poet's voice that afternoon. Poulenc was able to bring a variety of moods to us all through this very French, simple, and meaningful cycle.
Poulenc's music seemed facile, but showed a glimpse of gravity through Le Bestiaire. I have high hopes for some growth in his popularity[8] as his career continues. He truly exemplified new "frenchness" through what Auric told me Milhaud says is characterized by clearness, simplicity, and conciseness.[9] I will add and say Poulenc also showed "frenchness" by surprising us all with a song cycle that had depth. Bravo to Francis Poulenc!
[1] Musical Geography of 1924 Paris Data, accessed November 18th, 2015.
[2] Paris, Salle Gaveau. April 29, 2014. Paris. Accessed November 18th, 2015.
[3] Nichols, Roger. The Harlequin Years: Music in Paris, 1917-1929. Berkeley: University of California Press, 2002. (Page 120).
[4] Nichols, Roger. The Harlequin Years: Music in Paris, 1917-1929. Berkeley: University of California Press, 2002. (Page 44).
[5] Schmidt, Carl B. Entrancing Muse: A Documented Biography of Francis Poulenc. Hillsdale, N.Y.: Pendragon Press, 2001. (Page 54).
[6] Myriam Chimènes and Roger Nichols. "Poulenc, Francis." Grove Music Online. Oxford Music Online. Oxford University Press, accessed November 18, 2015,http://www.oxfordmusiconline.com/subscriber/article/grove/music/22202.
[7] Schmidt, Carl B. Entrancing Muse: A Documented Biography of Francis Poulenc. Hillsdale, N.Y.: Pendragon Press, 2001. (Page 48).
[8] Pilarski, Bohdan, and Maurice Ravel. 1964. "Une Conférence De Maurice Ravel a Houston (1928)". Revue De Musicologie 50 (129). Société Française de Musicologie: 208–21. doi:10.2307/927879. I cited this subjective statement because I think the significance and weight that someone like Ravel carries when saying Poulenc's popularity will grow should be noted, and is interesting because it absolutely happened.
[9] Milhaud, Darius. "The Evolution of Modern Music in Paris and Vienna." The North American Review (1923) 544. Accessed November 30th, 2015.