This project stemmed from an interest in musical life at Historically Black Colleges and Universities (HBCUs) during the first decades of their existence. In the planning stages of the project, we discovered that the Washington Conservatory is little known compared to the music programs at other historically Black institutions. At the same time, the conservatory was unique among those other institutions, given that it was founded and operated entirely by Black faculty and administrators. Doris McGinty and Sarah Schmalenberger had already done foundational research on the mission of the Washington Conservatory and on its founder, Harriet Gibbs Marshall.1 To build on their work, we chose to trace the lives and career paths of a select group of thirty Washington Conservatory graduates, limiting our scope to members of the first five graduating classes of the conservatory (1910-1914). Our goal was to humanize the institution's history and make visible what Doris McGinty has described as the "anonymous infrastructure" of graduates who influenced Black musical communities across the country.2
Our methodology centered on reconstructing the biographies of these thirty graduates – most of whom have never received scholarly attention – and transforming what we learned into a series of interactive digital maps that would help us test our hypothesis: that the Washington Conservatory of Music produced countless musicians who went on to strengthen musical communities and the broader social fabric of Black community life throughout the United States. To reconstruct their biographies, we consulted digital newspaper databases, digital genealogy records such as birth certificates, address documentation such as Census records and city directories, and other archival records. You can peruse the information we gathered and directly access the sources we used by accessing the spreadsheets we used to collect and organize our research findings.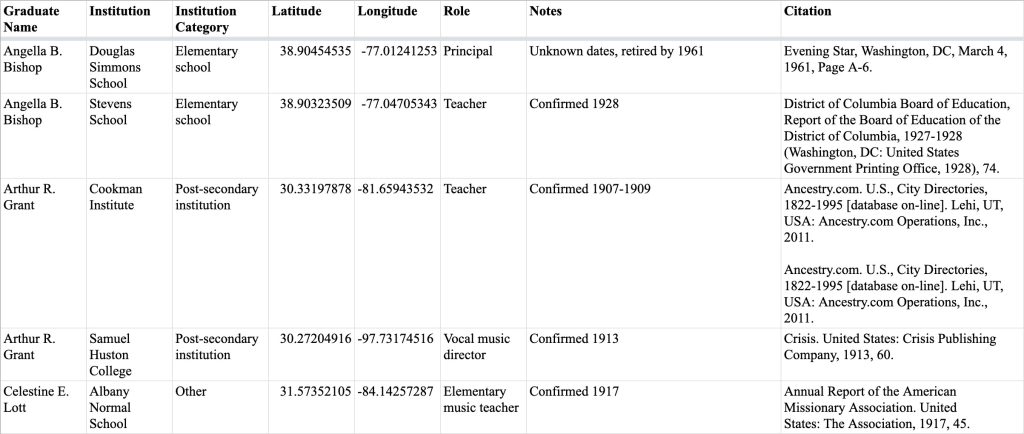 After having collected hundreds of pieces of primary source evidence about the lives and contributions of these thirty graduates, we explored ways of representing trends in their stories using interactive digital maps. We chose what maps to make by considering what would reveal the most about Washington Conservatory graduates and the communities in which they lived. Utilizing sources containing biographical information, we created spreadsheets which we uploaded into ArcGIS, displaying the information by classifications such as occupation type or performance location type. These maps reveal that Washington Conservatory graduates from 1910-1914 often remained in Washington, DC, taught throughout the country, and were steadily active in Washington DC public music performances.
In addition to relying heavily on these sources, we also conducted oral histories with Phylicia Fauntleroy Bowman about her aunt Grace Gibbs Brown, and with Mickey Terry about the history of Howard University's music department. A transcript of our oral history with Phylicia Fauntleroy Bowman is available for download here. Throughout the summer, we spoke with scholars whose work inspired our own, and who we knew were best positioned to give us early feedback on our research. We are especially grateful to Karen Bryan, Lucy Caplan, Sandra Graham, Tammy Kernodle, Carol Oja, Sarah Schmalenberger, Doug Shadle, and Kristen Turner for graciously entering into conversation with us via Zoom and for offering their time and edifying thoughts on our work. Special thanks goes to Tammy Kernodle for offering an informal oral history of her music education experience, which helped us better appreciate the significant connections between Washington Conservatory graduates and subsequent generations of teachers, performers, and scholars.
Such insights were prefigured in the scholarship upon which our work relies, in particular that of Doris McGinty and Sarah Schmalenberger, who wrote specifically about the Washington Conservatory. We also read scholarship by each of the scholars with whom we spoke via Zoom, as well as scholarship by Jarvis Givens and Eileen Southern. To see all of the sources we consulted, visit our Zotero bibliography.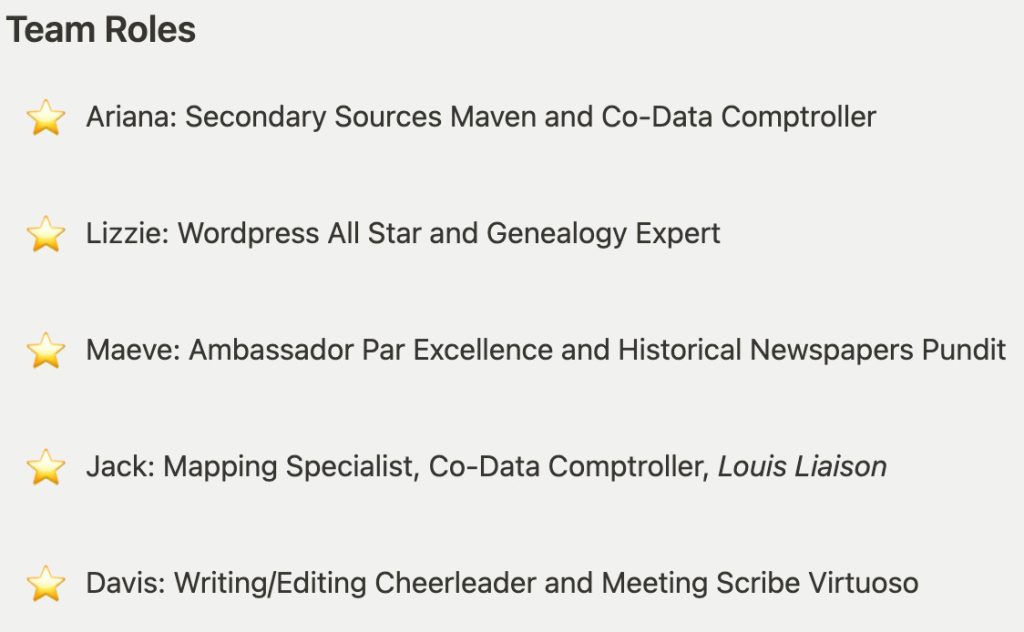 With support from St. Olaf's Collaborative Undergraduate Research and Inquiry program, we were privileged to be able to augment our digital primary source research and secondary scholarship review by conducting archival research in Washington, DC. Most of our archival research took place at the Moorland-Spingarn Research Center at Howard University, which holds the Washington Conservatory of Music collection. We also consulted materials at the Smithsonian Anacostia Community Museum Archives, the Sumner School and Museum Archives, the Library of Congress, and DC Public Library Archives. In each of these locations, we combed through correspondence, financial records, advertisements, and news clippings. Oberlin College Archives, Prairie View A&M University, Cornell University, and the University of Arkansas Fayetteville Special Collections also provided additional archival material via digital scans and, in one case, a virtual microfilm consultation.
Throughout this project, the 2022 Musical Geography team has worked collaboratively in archival research, digital mapping, and writing prose. Each of the five students specialized in particular skills, though each student contributed to each aspect of the project. Researching thirty graduates in ten weeks was only possible through collaborative scholarship. This model of research allowed us to tell more complete, more human stories of these graduates and the musical communities they influenced.
If you are interested in making your own digital maps, please see our "How To" page where a downloadable "Musical Geography Research and Style Guide" is available.  If you have additional questions about our project, please contact Dr. Louis Epstein at epstein@stolaf.edu.
1 See Doris McGinty, "The Washington Conservatory of Music and School of Expression," The Black Perspective in Music 7 no. 1 (1979): 59-74; and Sarah Schmalenberger, "The Washington Conservatory of Music and African-American Musical Experience, 1903–1941," PhD. Diss, University of Minnesota, 2004.
2 Conversation with Doris McGinty, cited in Sarah Schmalenberger, "The Washington Conservatory of Music and African-American Musical Experience, 1903–1941," PhD. Diss, University of Minnesota, 2004, 215.