Conducting research on someone from an era as foreign to me as the early 20th century is really a blessing as much as it is a curse.  Of course, being almost one and a half centuries younger than H. T. Burleigh has left me with a severe lack of knowledge of his everyday interactions and what being an African American composer in New York before the civil rights movement was like.  This is where the excitement begins for me though.  As I'm reading through newspapers and magazines published around the time of his peak of performing and composing, I get glimpses into the way the media and the public perceived him and his efforts, and it is truly eye opening.  These unique perspectives on him may not include any statistical or objective data, but they do allow me to appreciate the qualitative data that I'm accumulating and distinguish it from the quantitative data, as Dr. Jack Gieseking talked about in his article "Where are we? The Method of Mapping with GIS in Digital Humanities" from American Quarterly.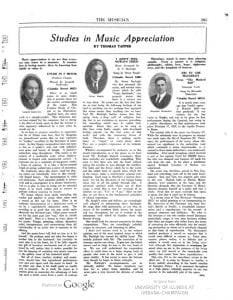 In many of the periodicals I've searched through, the blatant and seemingly expected racism that permeates each of the articles gives me at least a small part of the perspective on what Burleigh and other black artists of his time faced.  In this column from a 1918 publication of The Musician (see left), the writer commends Burleigh's works and has to enunciate to the reader that "there is nothing funny, or 'negro', or comic about them", implying that the audience of this magazine has an ingrained image of minstrelsy as the primary or only form of entertainment employed by black musicians.  Just reading this single sentence from the magazine gave me a greater understanding of how effectively Burleigh was able to achieve his goal of turning the spiritual into an art song and allowing it to be appreciated across racial boundaries.  
On the subject of the map that my research will hopefully help produce, I've had multiple ideas for how I would want the final product to look without many ideas for how I would be able to achieve that.  As the entries on the "People Burleigh Knew" spreadsheet expand, so do the blank cells of missing information and lack of specificity.  As my map on Burleigh's interactions with significant figures of the Harlem Renaissance will depend greatly on the thoroughness of this spreadsheet, I'm definitely planning on spending some time just cleaning up the data that has been collected and reaching out to different sources to obtain any vital information in order to turn these rows into legible and informative points on a map.  I would love to have a final map that utilizes a time slider to clear up any bundles of points all in one location (National Conservatory) and perhaps show paths of his significant interactions as he moves from Erie to New York and then beyond.  At the moment, more time will have to be spent simply collecting more data on when and where he met these different people, but I'm hopeful that the end product will have more substance than a simple heat map of circles on a stationary page.
Citations:
Jen Jack Gieseking. "Where Are We? The Method of Mapping with GIS in Digital Humanities." American Quarterly 70, no. 3 (2018): 641-648. https://muse.jhu.edu/ (accessed January 17, 2019).
Thomas Tapper. "Studies in Music Appreciation." The Musician, April, 1918.