Of all the composers at the fore of the early twentieth century, Ravel is one of the most well known. While Poulenc, Milhaud, and Honegger are familiar names among musicologists, Ravel and Debussy have achieved a place in the general public's vocabulary. Most musicologists attribute Ravel's popularity to Boléro, a work from the late 1920s whose popularity surprised even Ravel himself. Before Boléro, however, Ravel experienced at least as much failure as success. He failed to win the Paris Conservatory's Prix de Rome multiple times, and his first few works were badly received. Nonetheless, Ravel remained somewhat impervious to criticism, writing not to please, but to indulge his own inner urge to compose. He was quiet and reserved, was a successful student at the Paris Conservatory, and lived with his parents until the age of 45. In spite of his refusal to display emotion, Ravel had many friends. He had a strong influence over younger composers — notably, Les Six — and his contribution to Parisian musical life was both significant and unique.
Scholars often characterize Ravel's music as "neoclassical," calling attention to his characteristic use of new harmonies within classical forms. While musicologists often compare Ravel with his contemporary Claude Debussy, there are clear differences between the two. John Check notes that while Debussy's music gives in to impressionism, depicting vague emotions and moods while abandoning larger forms, Ravel's compositions paint pictures, generally staying well within the boundaries of form. Though not as avant-garde in his approach to harmony as Schoenberg, Ravel's music is progressive for its time. When, after failing to win the Prix de Rome multiple times, Ravel was not even admitted to the 1905 competition, his supporters argued that the judges were too conservative, and were biased against him. The so-called affaire Ravel, in which composers, artists, and the general public took sides, resulted in Gabriel Fauré taking over the Paris Conservatory and Ravel gaining popularity.
A review of Ravel's Pavane pour une Infant défunt, from

Les Annales du théâtre et de la musique
Le 14 janvier, nous avons entendu la première audition aux Concerts Lamoureux, de la Pavane pour une Infante défunte, de M. Maurice Ravel; cette oeuvre exquise, d'un contour mélodique et harmonique très subtil, existait au piano et a toujours obtenu sous cette forme un gros succès; elle n'a pas été moins goûtée dans sa nouvelle incarnation instrumentale.
On January 14, we heard the first performance at the Concerts Lamoureux of the Pavane pour une Infante défunte, by Mr. Maurice Ravel; this exquisite work, of a very subtle melodic and harmonic contour, was for the piano, and in that form, always obtained great success; it was no less appreciated in its new instrumental incarnation.
Source: http://gallica.bnf.fr/ark:/12148/bpt6k54983z/f498.item.r=%22Maurice%20Ravel%22
Although Ravel liked to astonish his friends (with everything from card tricks to new, yet-unheard music), he did not actively try to influence his contemporaries. Nonetheless, his admiration for Erik Satie proved infectious. Madeleine Goss argues that a concert Ravel gave of Satie's music "marked the beginning of a certain vogue for Satie's works, particularly among the younger musicians" (43). The group called Les Six, composed of six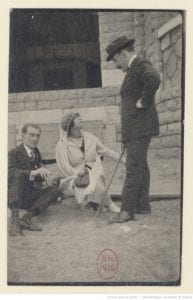 young modernist composers, adopted Satie as their figurehead and role model, though they criticized Ravel's compositions. Ravel's influence was even more apparent in 1910, when he led other students of Fauré in founding the Société musicale indépendante. Ravel felt that the existing Société nationale de musique was not fulfilling their mission — to perform works by young, promising musicians — and that it was time for a new institution. Ravel was justified in this belief; he had been able to premiere his early works at the SNM only because Ricardo Viñes, a concert pianist and good friend of Ravel's, included them in his programs.
Ravel with Hélène Jourdan-Morhange and Ricardo Viñes, a concert pianist who often played his works
Ravel's fame grew steadily througout his lifetime. The reception of his works ranges from utter failure to whopping success, and his musical beliefs had a lasting influence on younger composers (though not always directly). Stereotypically French, he was proud and aloof, but formed close bonds with a select few. His music represents the transition from the old school's traditions to the abandonment of those traditions with the rise of minimalism and surrealism in the 1920s.
---
Secondary sources
Check, John. "Perfection of the Life and the Work the Case of Maurice Ravel." Sewanee Review 124, no. 1 (Winter 2016): 68-78. Accessed June 16, 2016. doi:10.1353/sew.2016.0007.
Goss, Madeleine. Bolero: The Life of Maurice Ravel. New York: Tudor, 1945.